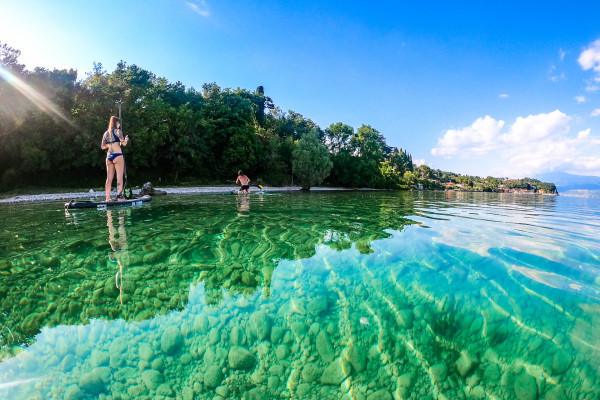 Sup Tour - the magic experience on the water . Practice, equilibrium and amazing panoramas. Recommended outdoor tour.
Briefing about the use
Recommended for groups and events
Magic expeience
realx and fun
Included

guided tour or rental
Paddle board rental 

Duration
1 Hour or 2 Hours
Important information

• Adults only (+18)
Further information
Enjoy a Sup tour among the beautiful colors of Lake Garda.
The sup tour is really an amazing and trendy experience, a must-do one. It offers the possibility to enjoy beautiful landscapes by sailing on this board on the water. The tour on board the so-called stand up paddle board lasts from 1 hour to approximately 2 hours depending on the chosen experience. It begins with a small practical lesson, lasting a few minutes, to understand its use. The experience in Sup involves the use of the board, of a paddle to paddle, that is to row, and then everything is in balance. Once you have learned the basics you are ready to begin the real experience. Once you get on the table and take the right confidence and with a little balance we start. If you choose the tour, an instructor will accompany the group guiding them in a path. And so on towards the open sea, for a better overview, a new perspective, truly magical standing on the water.
This activity, in contact with nature and with yourself is truly a magical experience. Relaxation and fun guaranteed. Surely there will be a dip.
Treat yourself to a sup experience, enjoying a breathtaking view of Lake Garda. Recommended for friends, the sup tour can simply be the alternative for a day on the lake or a group event.
Book your Sup Tour on Lake Garda, choose whether to rent your board, join a group SUP tour or even choose the experience of the SUNSET SUP TOUR!